TISSUE GRINDER/ HOMOGENISER
Accurate Glass vessel houses a precision machined PTFE pestle, that is plain or serrated depending on type of tissues - materials to be homogenised. Available sizes: 1,2,5,10,20,50ml.

SPECTROPHOTOMETER CELLS
In Optical Glass for visible region and Fused Quartz for UV-Visible spectrum of operation. Special Cells can be offered on request.

Size-Width x Pathlength
Fused Cells made from Optical Glass
10mm x 10mm,matched pair
10mm x 20mm,matched pair
10mm x40mm,matched pair
30mm x10mm,matched pair
40mm x10mm,matched pair
Fused Cells made from Quartz
10mm x10mm,matched pair
PTFE Lid for 10 x10mm cells(10/pack)
Polypropylene Lid for 10 x 10mm Cells (10/pack


AQSEAL RUBBER SEPTA

Natural Rubber Septa, Parr Hydrogenation Stopper and Fermentor Septa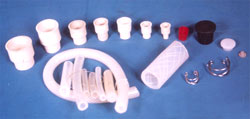 Flexible seal for glass joints provides internals and external secure grip to avoid spillage while opening / closing glass stoppered containers. Natural Rubber is gppd for most lab applications. Offers convenience of drawing or injecting small quantity of samples using syringe and needle. For stronger chewmicals option of fluoropolymer septa, and for repeat autoclaving in sterile applications option of Silicone Rubber available. Sizes available B14, B19, B24, B29, B34.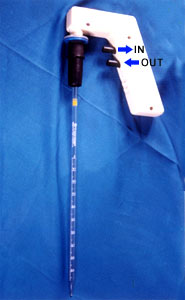 AQPETTOR
Accurate pipetting at your fingertips using lightweight, comfortable, portable, rechargeable pipettor thataccomodates all standard lab pipettes from 1ml to 50ml. Unit is provided complete with mains operated charger, disposable filter and operating instruction. The pipette holder assembly can be autoclaved for sterile use. For repeat autoclaving requirements you may order silicone rubber pipette holder.
PTFE PRODUCTS

PTFE Balls(Spherical)
Extremely useful in chemical baths, Column Chromatography and as unbreakable mixing media instead of fragile glass balls. Available sizes: 6, 10, 12, 22, 25, 32, 38, 45, 50mm.

PTFE SHEET
Provide ideal benchtop cover for laboratory areas handling strong chemicals. Available in 1ft. width in continuous lengths upto 5 metres, with thickness options 0.5mm, 1mm, 1.5mm.
PTFE TUBINGS
For regular transfer of corrosive fluids except HF, can withstand temperatures upto 250 deg C. Standard sizes available in 5metre rolls are ID/OD (mm): 1.6/3.2, 3.2/4.8, 4.8/6.4, 6.4/8.7, 7.9/9.5, 9.5/11.1, 11.1/12.7, 12.7/14.3, and 3.2,/6.35, 4.8/8, 6.35/9.5, 8/11, 9.5/12.5, 12.5/16, 16/19, 19/22, 22/25, 25/28 mm.

AQDISPENSER & FILLING ASSEMBLY (FA
)
For repetitive dispensing of preset volumes,
Saves time and ensures repeatable accuracy.
| | |
| --- | --- |
| Capacity | Graduation |
| 2ml | 0.5ml |
| 5ml | 0.25ml |
| 10ml | 0.50ml |
| 20ml | 1.00ml |
BOTTLE DISPENSER
Bottle Dispenser: Standard 5ml & 10ml models are supplied with 500ml / 1 litre amber bottle in safe packaging. All contact parts are made of chemically resistant borosilicate glass, PTFE and Polypropylene.
Bottle Dispenser - Deluxe will be available in capacities of 1ml, 2ml, 5ml, 10ml and 25ml.
Each unit is provided with 7 adapters to fit onto different international sizes of bottle mouths. All contact parts are made of suitable chemical resistant grade materials.


GLASS SYRINGE& NEEDLES

Glass Syringes
1ml long, glass tip, each
1ml insulin, glass tip, 10/pack
1ml insulin,luer lock, 10/pack
2ml standard, glass tip, 10/pack
2ml standard, luer rock, 10/pack
5ml standard, glass tip, 10/pack
10ml, 20ml, 30ml, 50ml
GLASS JOINT TAPER CLIPS
Standard Taper clips securely hold conical joints under pressure without damaging glass. e.g. for for Buchi® Evaporator kjeldahl & round flask, plastic clips are resistant to acid & alkalis. SS ball joint clips offer superior chemical resistance and working temperature upto 450° sold in packs of 5.Available size in
SS B-19 & B-29 and Plastic B-19, B13, S-19, S-29, S-35.
Hypodermic Needles
G20 to G27 x1/4", ½",3/4"&1", 10/pack
G16 to G20 x1", 1 ½", &2", 10/pack
G16 to G20 x 2 ½", 3", 3 ½", 10/pack
G16 to G20 x 4" & 6", 10/pack

Transfer Needles
G16 to G20 X 0.5,1,1.5 metre, double point
G16 to G20 X 0.5,1,1.5 metre, one point